September 2005
At International Show at Rotterdam 28 August Tony was not only BOB but was also
BIG-9.His 2 sohns,Up and Down's Frederike(got res.CACIB) and Boy of Tony you don't fool me El Afrafi (got res.CC)won their classes !

Maastricht at International Show 17-18 September Tony was BIS.
The breed was judged by Mr. Hilverda,the group was also judged by Mr. Hilverda and finally BIS was judged by Mr. van Soest

Championclubmatch of the Dutch Papillon and PhaleneClub 25 September Antony was BIS!!! Judge was Breedspecialist Mr. Scheepers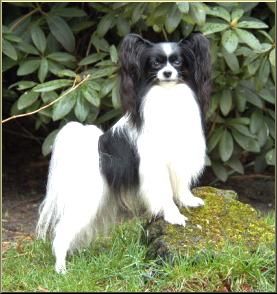 National Show Echt,Holland,
3-4 Juli 2005
At this Show Tony was not only BOB,judge breedspecialist Mrs. Roos Silvertand,but another breedspecialist and allrounder Mr.Hans van den Berg made Tony BIG,!!!(also BIG 2003!!) and last but not least breedspecialist Mrs. Anika Ulltveit -Moe made Tony res.BIS.It was a very hot day with an exciting end!

International DogShow Berghem,Holland,
27-29 Mai 2005
Judge Mr.Ellis Hulme
(breedspecialist and Papillonbreeder,famous Tongemore Kennel) made Antony BOB and wrote in his critics An Outstanding Example of the Breed!!
Later Antony became BIG also judged by the breedspecialist Mr. Peter Prins.Antony became res BIS,a wonderfull achievement,the judge was Mr. N. Huber from the USA.Thanks for the judges for recognizing Tony's qualities!!!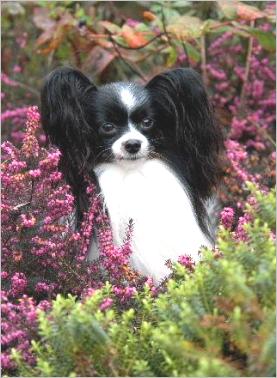 At International Show Arnhem,14 Mai 2005
Antony got CAC CACIB and BOB ,judge was the breedspecialist Mrs. Rie de Vos.

Sunday 24 April 2005
The Papillon Club England held her anual Championship Show at Coventry.
Judge for the dogs was Mr.Peter Jolley and the judge for the bitches was
Shirley Coleyer.
There was an entrie of 314 Papillons!!!
Antony won Open Class,got Dog CC and Finally BIS!!! And Antony was also Best Fringed Papillon of the Show!!
A great day with a great end!!!



March 2005
CRUFTS BOB and BIG -2 !!!!
Judge Mrs. Carolyn Roe.
Antony is the only Correct Pedigree name!!! And Antony got the Dog CC and the BOB!!!!!



February 2005
Invitation for The Dog of the Year Show Amersfoort