Reflections 2006


The Show at Wijchen was the last Show for the Up and Down's Papillons and Phalenes this Year 2006.It has been a extremely Succesfull Year!! Up and Down's Frederike(Sire MultiCh.BIS,BISS,Antony) became Dutch Champion,Europasieger 2006 BOB(Very High Entry),got his final CACIB to become International Champion,BIG-4 ClubMatch Waalwijk(Michael Forte),BIG-2 International Show Rotterdam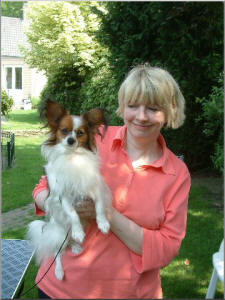 (Breed-specialist Mr. Hilverda) and Last But Not Least became BOB at Bournemouth!(UK) and BISS and BIS at Weijerbusch(Germany) under the Breed-specialst and Breeder(Inkies).Mrs.Kitty Sjong from Denmark.A very succesfull Year for Up and Down's Frederike.Ofcourse we would like to continue this wonderfull winnings.Another Succesfull Papillonmale from the Up and Down's Kennel is Boy Of Tony You Don't Fool Me El Afrafi(Sire MultiCh.BIS,BISS,Antony).This year he also became Dutch Champion and he was BIG-3 at International Show Hulten(Breedspecialist Mrs. I. Zwaartman).He also got many other winnings.And Last But Not Least for the second time Boy Of Tony You Don't Fool Me El AFrafi was BIS at the SpringClubmatch of the Dutch Papillon and Phaleneclub,judge Breed-specialist Mrs. J.Dekker.AT the BrusselWinner Show Breedspecialist Mrs. R. De Vos awarded him with the res CAC and res CACIB,an excellent results,his sire Multi Ch.BIS BISS Antony was Best Male and BOB!! A Great Year with Great Results.My little Papillonboy from Australie Mondelise Lord O Delight,aka Jordan finished his Dutch Junior Winner Title.Jordan was the First Papillon in Holland to get this Title!!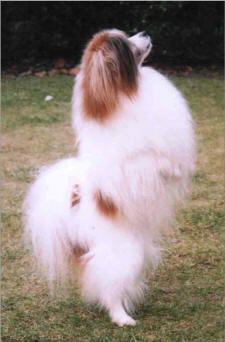 A Big Thank to his breeders Don and Sharon Mahoney from Australie.We are gone campaign the Year 2007 this wonderfull little dainty Papillon Boy.Another Succesfull member of the Up and Down's Kennel is my Swedish Import.Siljans Averil.A lovely little bitch,bred by the welknown Mrs. Ulla Hanis,who have bred over the years many wonderfull Papillons.Also Siljans Averil had a great Year!! I was extremely proud to become BOB with Siljans Averil under the Breedspecialist Mr. N. De Schuymere(Belgium) and later BIG-3! (Mr. Burema).I am extremely proud that 3 Papillons from the same Kennel are invited for the prestigious Dog Of The Year Show 2006,25 February 2007! As well Up and Down's Frederike as Boy Of Tony You Don't Fool Me El Afrafi are sire by MultiCh. Antony!February 2006 Loteki Late Night Soiree got a lovely litter of 4 Puppies.Two bitches and Two males.A big thank to Lou Ann King from the Famous Loteki Kennel for sending Loteki Late Night Soiree to Holland! Up and Down's Head Over Heals and Up and Down's High Society went to the USA to Lou Ann King! Up and Down's High Noon,aka Mimi had a spectaluar start.She was BIS Puppy at the Clepnaco Winner(Breedspecialist Mrs. L. De Ridder).BIS Puppy at the Jubileum Show PPCN(breedspecialist Mrs.R. De Vos).At the International Show Bleijswijk she was BIS puppy-9.In the Juniorclass she got the DebutesCup at Kortrijk(Belgium)! And she got her first Youth CAC at Wijchen.Her Litterbrother Up and Down's Higher and Higher,aka Johny did also great as Puppy,He was at International Show Zwolle and International Show Maastricht Best Puppy of Breed.And he got the DebutesCup at Kortrijk(Belgium).As well Johny as Mimi will be Shown the year 2007!Also with the Phalenes the Year 2006 was very succesfull.My PhalenemaleZorro Man From Gemini's Home(Grandsire Skymningen's Nicholas,dame Up and Down's Bo Peep Bambi) finished his Luxembourg Title,Belgium Title .German Title and International Title.He was also Best Phalene of the Spring Clubmacth of the Duthc PPCN.Judge Breedspecialist Mrs. J. Dekker.And at the Jubileum Show of the Dutch Papillonclub he was Best Phalenemale! (Judge mrs. R. De Vos).At the International Show ,Jahrhundert Sieger 2006,Zorro Man From Gemini's Home got the prestigious Title Jahrhundertsieger! My other lovely Phalenemale Austrene Academy Award had a great Showdebute.He was several Times BOB! He also finished his Dutch Championtitle and the Luxembourg Championtitle.A great Thank to Mrs. Marian Sloan for sending Elwood to Holland to the Up and Down's Kennel.Another succesfull Phalenemale is Vermeil Des Charmes D'Antan(Sire Up and Down's El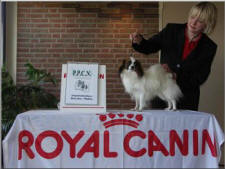 Pino).He won the Intermediate class at the Spring ClubShow and was BOB at the International Show at Arnhem(Breedspecilist Mrs. I. Zwaartman) and BOB at International Show Rotterdam(Breedspecialist Mrs. J. Toebak).For the moment he is with his breeder Christine Mazalone,France.My Phalenebitch Djacinta Di Papalino(Sire Skymningen's Nicholas)did also great this year! She finished her German Junior Title in style with a BOB! She also got her Luxembourg Championtitle and hope to finish her Dutch,Belgium,German and International when she will be 27 months old! At the Papillonand Phalenespecialty Weijerbusch,breedspecialist,Mrs. Kitty Sjong,she became BOB.At the Springclubmatch of the Dutch PPCN,she was BOS,judge,breedspecialist Mrs. J. Dekker.At the Jubileum Show of the Dutch Papillon and PhaleneClub,judge,breedspecialist Mrs. R. De Vos,she was BOB and got the prestigious Title ClubWinner 2006 and was res BIS!!.She was also EuropaSieger 2006 and JahrhunderdSieger 2006 at Dortmund(Germany).December 2006 ,a new Phaleneboy came over from Sweden.Noble Nadirs Jeppe.(Sire Multi Ch. European Champion Up and Down's Boing Boing Teigetje,grandsire Skymningen's Nicholas).A lovely boy with a Great Pedigree! He will make his Showdebute the Year 2007! The oldest one,my Phaleneboy,Skymningen's Nicholas.This year he got the Prestigious Title Dutch Vetran Champion.He got his Last veteran CAC from the breedspecialist Mr. P. Machetanz(Germany).He also was Best Male.At the ClepnacoWinner(judge ,breedspecialist Mrs. L. De Ridder)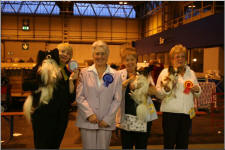 ,Skymningen's Nicholas was not only Best Male and Best Veteran of the Show but also BOB and res BIS at almost 11 Years!I am very greatfull to his breeder Mrs. Maud Pettersson for sending Skymningen's Nicholas o Holland.Skymningen's Nicholas is not only one of the most Succesfull Phalenes but he is the most Succesfull and Dominant Sire !! He sired 2 JuniorWorld Winner,3 European Champions,and 3 World Champions and many Multi Champions.His first litter in the UK is also doing great! They are allready very succesfull at the Show.At the LKA Skymningen's Nicholas daughters were shortlisted and placed 3 in the very big class!!!Last But Not Least my Papillonboy Anotny.It was a Great Year.He was Best ToyDog at the Prestigious Dog Of The Year Show 2005 and was res BIS.Crufts 2006,he got for the second time the Dog CC! and was BOS,judge,Mr. M. Fowler.At the Clubmatch of the The UK Papillon Club,Antony got the Dog CC,judge,breedspeciliast Mr. Abott(Lordsrake) .Together with judge,breedspecialst,Mrs. J.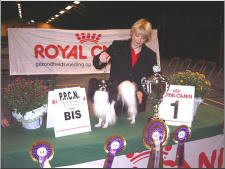 Scovel(Caswell) ,they decided to give for the second time Antony got the Title ClubWinner Uk PapillonClub.AT the most Prestigious Show at Belgium,The BrusselWinner Show,Antony got the Title Belgium Winner 2006 and BOB ,breedspecialist Mrs. R. De Vos.The competition was very strong.At the Jubileum Show (75 Anniversary)of the Pekignees and ToySpaniel Club the 7 October,breedspecialist Mr. Hilverda made Antony BOB,later Antony was BIS,by the famous allrounder Mr. M. van de Weijer.The next day the Dutch Papillon and PhaleneClub was celebrating her 30 Year Anniversary.There was a huge entry.I was proud to say that breedspecialist Mrs. R. De Vos made Antony ClubWinner 2006 and BIS.At the LKA (UK) Antony got the Dog CC and BOB! Breedpecialist Mrs. Sue Stanbury(Inixia).I am extremenly proud that not only Antony got CC's and placings in the UK but also his offspring Up and Down's Frederike (CC and BOB Bournemouth 2006) and Up and Down's Donna Bella(CC and BOS Paignton 2004).I hope that the Year 2007 will also be a Succesfull Year for the Up and Down's Kennel.I hope that everyone will respect each other !!! I want to wish Everyone a Merry Christmas and a Happy and Healthy 2007!!